Free taster sessions
Posted: 18/8/2020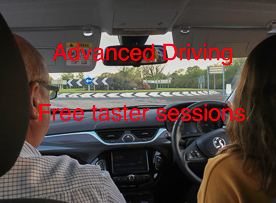 North Down Advanced Motorists, an official provider of IAM RoadSmart advanced driving and riding courses, is offering free taster sessions to any full car or bike licence holder regardless of their level of experience.
Each person taking part will receive a concise briefing and an overview of IAM RoadSmart driving/riding principles followed by an on-road session and ending with a debrief.  Drivers will use their own car on local roads, with a local assessor and can discuss any areas of concern with their assessor during their session.
The tone of the session is a low-pressure introduction on how to make driving/riding enjoyable, stress-free and fun.
For anyone wanting to develop their skills further, and go on to enrol for the Advanced Driver or Motorcycle Course will receive a 10% discount on the standard £149 fee.
If you would like to take part or want more details please email your name and telephone number to secretaryndam@gmail.com or phone 07760 578444.