Christmas discount and cashback
Posted: 23/11/2018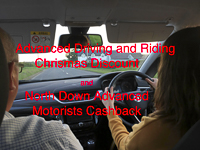 Looking for a Christmas gift for someone?
IAM RoadSmart is offering a 10% Christmas discount on Advanced driving and riding courses reducing the cost from £149 to £134. North Down Advanced Motorists is going even one better - we will offer an additional £35 cashback for new Associates who follow the course and take the test. This brings the cost down to £99 and would make an ideal Christmas present.
To obtain the 10% discount, apply online to https://www.iamroadsmart.com/courses#  and just enter the promotional code gv10 during checkout, to purchase at the discounted price of £134 (saving £15 on the normal price). Alternatively call IAM HQ at 0300 303 1134.
The voucher packs are sent to you, the purchaser, so that you can pass them on as a gift. The vouchers come presented in gift envelopes! The recipient simply needs to add a dash of commitment to learning and developing new skills.
All vouchers are redeemable across the UK and valid for 12 months from the date of purchase and so can be redeemed when convenient. All the recipient needs to do is to call the activation number on the voucher, quote the reference code and then provide us with their contact details - it's as simple as that.
Once IAM has activated the voucher the recipient will be sent the course logbook and will be contacted by the local group to invite the recipient to start the advanced course with them.